Hola Usuario No Registra
Hola usuario no registrado, te invito a que crees tu cuenta en este foro para que veas toda la informacion que hay en el foro y asi te des cuenta de todo lo que quieras saber acerca de Big Time Rush. Este fan club es para todos los Rusher del mundo. Aun estamos en construccion del Diseño para que sea mas agradable para ti
Hello unregistered user, I invite you to create your account at this forum to see all the information that is in the forum and so you realize everything you want to know about Big Time Rush. This fan club is for all the world Rusher. Web Design under construction for your like
ELEVATE
ELEVATE
Escucha la musica, lee las letras de las canciones y mas
ELEVATE - Segundo Alum de BTR (All About)
Como ya saben, Big Time Rush, ha estado traajando en un segundo albun de estudio que sera lanzado el dia 21 de Noviembre de este año en USA y Latinoamerica y una semana antes en Alemania.
Este album poseera 13 canciones de las que ya se conocen "Music Sounds Better With U", "Superstar", "If I Rules The World".
La lista de canciones del disco ELEVATE es la siguiente:
1 Music Sounds Better With U (feat. Mann)
2 Show Me
3 All Over Again
4 No Idea
5 Cover Girl
6 Love Me Love Me
7 If I Ruled the World (feat. Iyaz)
8 Invisible
9 Time of Our Life
10 Superstar
11 You're Not Alone
12 Elevate
13 Blow Your Speakers
La portada del disco ELEVATE fue dada a conocer por los mismos integrantes por medio de Twitter y Facebook el dia 20 de octubre.
De esto mismo se conoce el primer sencillo del album el cual es en colaboracion del rapero "Iyazz", la cual tambien fue lanzada en el episodio de la serie "Big Time Single" en junio.
El segundo sencillo que se desprende de este album es "Music Sounds Better With U", el cual fue lanzada como descaga digital en iTunes Store el dia primero de Noviembre y se espera estrene pronto el video musical del mismo.
DESCARGA DE iTUNES: --> Music Sounds Better With U http://bit.ly/btrmsbwu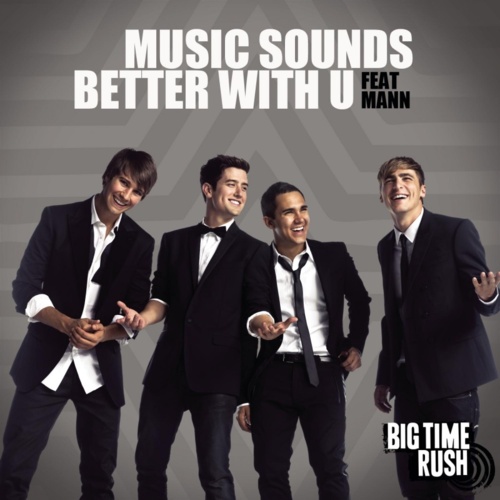 Temas similares
---
Permisos de este foro:
Puedes
responder a temas en este foro.