Hola Usuario No Registra
Hola usuario no registrado, te invito a que crees tu cuenta en este foro para que veas toda la informacion que hay en el foro y asi te des cuenta de todo lo que quieras saber acerca de Big Time Rush. Este fan club es para todos los Rusher del mundo. Aun estamos en construccion del Diseño para que sea mas agradable para ti
Hello unregistered user, I invite you to create your account at this forum to see all the information that is in the forum and so you realize everything you want to know about Big Time Rush. This fan club is for all the world Rusher. Web Design under construction for your like
ELEVATE
ELEVATE
Escucha la musica, lee las letras de las canciones y mas
Últimos temas
»
15 cosas sobre Big Time Rush que quieres saber
por Invitado Mar Nov 25, 2014 12:14 am
»
Carlos's Instagram Photos: "Nothin but love"
por Invitado Mar Nov 12, 2013 10:54 am
»
BIG TIME RUSH en MAD
por
lauris caicedo
Jue Ago 29, 2013 12:04 am
»
¿Que cancion de ELEVATE esperas con ansias?
por
lauraBTR
Miér Ago 28, 2013 9:16 pm
»
Big Time Rush habla sobre su nuevo album y colaboraciones
por
lauris caicedo
Miér Mayo 29, 2013 2:31 am
»
Vote for the KCA Australia 2011
por
lauris caicedo
Dom Mayo 26, 2013 3:32 am
»
Big Time Rush - Worldwide
por
lauris caicedo
Vie Mayo 10, 2013 2:51 am
»
"Elevate" debuta en la posicion 12 en Billboard Top 200
por
lauris caicedo
Sáb Mayo 04, 2013 12:56 am
»
Big Time Rush - "Windows Down" Exclusive First Listen
por
alejandragabriela
Dom Mar 03, 2013 12:49 am
»
Kendall y Dustin de paseo por Hollywood
por
Presidente
Mar Abr 10, 2012 5:37 am


Canciones del Segundo Album de BTR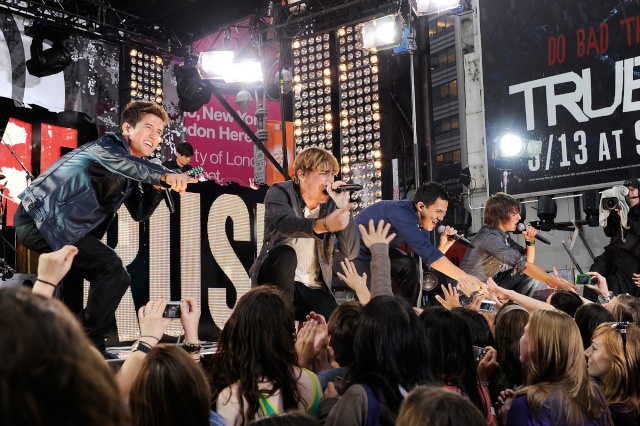 El album se espera que salga a la venta el 21 de NOVIEMBRE de este año
Album "ELEVATE"
1 Music Sounds Better With U (feat. Mann)
2 Show Me
3 All Over Again
4 No Idea
5 Cover Girl
6 Love Me Love Me
7 If I Ruled the World (feat. Iyaz)
8 Invisible
9 Time of Our Life
10 Superstar
11 You're Not Alone
12 Elevate
13 Blow Your Speakers
Estas canciones fueron las primeras que se creian q vendrian en el album...muchas de ellas ya no aparecen en la lista oficial. Varias de estas canciones quizas sean lanzadas en una version deluxe del album asi como paso como en B.T.R., ademas se creia que el nombre del album seria "Anything Goes".
Antigua lista y/o posibles bonus track
1- If I Ruled the world
2- Paralyzed
3-My Time
4-Blow you Speakers
5-Someone Else
6-Anything Goes
7-Superstar
8-Like me
9-Tomorrow
10-Heya
11-Perfect
12-No one like you
13-(Fallin' in love) All Over Again
Otras canciones posibles:
-Shoot in the Dark
---
Permisos de este foro:
No puedes
responder a temas en este foro.